Delivery of the OTR wheel rim 25-19.50/2.5 for CAT 950 tyre size 23.5R25 to our South African customer
Rarlong has become the biggest manufacturing base on construction machinery wheel rim and accessories in China.
Rarlong has the most complete varieties and the most advanced technology of wheel accessories, the scale of production comes to the first place and it is the only one enterprise which professional in manufacturing section steel for assembly of medium vehicle, heavy duty vehicle, wheel loader, excavator, forklifts and other construction machinery wheel rim. The products have been sold to all of the provinces and major cities of China, some products have been exported to the United States, Britain, India, South Africa and other countriesof the world.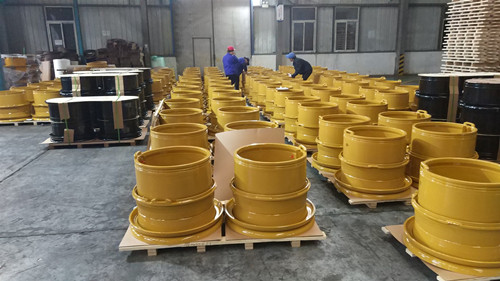 Rarlong's advantages in steel OTR wheel rim manufacturing:
1.Rolling mill
At present, Rarlong has 5 rollin
g production lines and can rolling various kind of special shape section steel, most of the 8-63 inch steel OTR wheel rim components can be made by section steel.
2.Painting line
The international advanced E-coating paint line, makes our products lead the quality in same wheel industry and customers can customize the color and brand of paint.
3.Auto equipment
Rarlong has started to use the auto equipment, they further improved the product quality, reduce production costs enhanced the strength of the company.
4.Trained inspectors
A large number of well trained inspectors ensure that each production process is controlled by inspected and guarantee the hi
gh quality of products.
5.Orderly management
Keeping the first in- first out principle makes our warehouse in good order and orderly warehouse management is the basic logistics support of our good service.
6.Experienced after-sales
Rarlong's experienced after-sales team provides first-class service and excellent product solutions for all our customers, and provides a full range of service experience. We are also ISO9001/TS16949, ISO14001 and ISO18000 certified company.